Thursday, November 30, 2023: 3:30pm – Fall of the Titans – What became of the world's Ice Age megafauna and what does it mean for our future?
Dr. Emily Lindsey
Associate Curator and Excavation Site Director at the La Brea Tar Pits, Los Angeles, California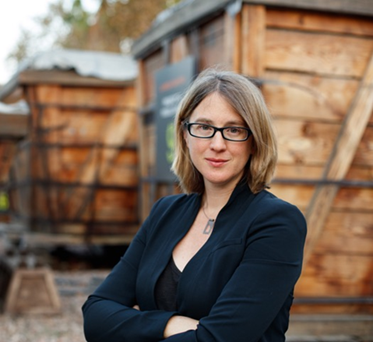 Throughout most of the 66-million-year history of the Age of Mammals, large animals dominated Earth's ecosystems. But at the end of the last Ice Age, between ~50,000 and 10,000 years ago, most of these "megafauna" suddenly disappeared. This wave of extinctions was marked by major global changes, including a rapidly warming climate and the spread of human populations around the world. But despite decades of research, scientists are still debating the role each of these processes played in the loss of these iconic beasts. Join Dr. Emily Lindsey, Associate Curator and Excavation Site Director at the La Brea Tar Pits in Los Angeles, California, in exploring the fascinating history and mysterious demise of Earth's Ice Age giants. Dr. Lindsey's research focuses on the lives and times of Ice Age animals, and on understanding how climate change and human actions intersect to drive extinctions. She has conducted fieldwork across North and South America and Antarctica, holds adjunct faculty appointments at the University of Southern California and UCLA, and serves on the Academic Board of the Institute for Field Research. Dr. Lindsey studied at Brown University, the University of California – Berkeley, and as a Fulbright scholar at the Museo Nacional de Historia Natural in Uruguay, before joining the Natural History Museums of Los Angeles County in 2016.
Tickets will be available soon.
---
Past Speakers
Tuesday, April 11, 2023: 6:00pm - Illuminating the shoreline - the influence of light pollution on freshwater environments
Elizabeth Parkinson
Head of the Freshwater Forum at Cranbrook Institute of Science
National Science Foundation Fellow Lizz Parkinson will present a portion of her NSF research into light pollution on insect ecology. Artificial light at night is one of the most rapidly changing human impacts on the natural world, but much remains unknown. As human habitation, and illumination, of freshwater coastlines worldwide continues to grow, the importance of understanding the implications of these changes for freshwater ecosystems grows with it. A huge, but often overlooked, component of our freshwater communities are insects - their response to artificial light at night can give us greater insight into our waterways and their connected shorelines.
This lecture is presented in partnership with the MSU Extension's Michigan Conservation Stewards Program.
---
Sunday, March 12, 2023: 3:30pm – What Can Fossils Tell Us? The Life of SUE the T.rex - SOLD OUT!
Book signing to follow Dr. O'Connor's lecture
Dr. Jingmai O'Connor
Associate Curator of Fossil Reptiles, Field Museum
Paleontologists can understand extinct animals in surprising detail when they have exceptional fossils to work with. SUE is the most complete adult
T. rex
currently known to science and this spectacular fossil reveals that life as an apex predator was not always easy. Join Dr. Jingmai O'Connor in a discussion about SUE's life and a signing of her new children's book,
When Dinosaurs Conquered the Skies: The Incredible Story of Bird Evolution
.
Jingmai O'Connor is currently the Associate Curator of Fossil Reptiles at the Field Museum of Natural History in Chicago. Previously she was a professor at the Institute of Vertebrate Paleontology and Paleoanthropology of the Chinese Academy of Sciences in Beijing where she worked for over ten years. Her research explores the evolution of flight in the Dinosauria, the dinosaur-bird transition, and the biology of stem-avians, not through any one aspect but exploring Paraves through feather origin and function, aerodynamics, reproduction, respiration, trophics, anatomy, systematics, ontogeny, taxonomy, histology, and other topics as exceptional specimens arise. She has published over 130 papers some of which have appeared in top journals including Nature, Science, the Proceedings of the National Academy of Sciences (PNAS), and Current Biology. In 2019 O'Connor was awarded the Schuchert Award by the Paleontogical Society which honors a paleontologist under the age of 40 who demonstrates excellence and promise. O'Connor has conducted field work in the US, China, Mongolia, Romania, Canada, and South Africa. She serves as the paleosciences Section Editor for All Earth, Associate Editor for Scientific Reports and is a Research Associate of both the American Museum of Natural History and the Los Angeles Natural History Museum.
---
Thursday, October 20, 2022: 7:00pm - Dive into Hell's Aquarium: Uncovering Marine Ecosystems During the Age of Dinosaurs
Doors open at 6:00pm for cocktail reception prior to lecture

Dr. Laura E. Wilson Professor, Fort Hays State University Department of Geosciences, and Curator of Paleontology at the Sternberg Museum of Natural History
Come explore SUE: The T. rex Experience, then hear more about life during the time of dinosaurs from an expert, Dr. Laura Wilson. Dr. Wilson specializes in vertebrate paleontology and paleoecology, exploring how ancient organisms interacted with each other and their physical environment.
Dr. Wilson earned her M.S. in Earth Sciences from Montana State University studying the taphonomy and paleoecology of terrestrial deposits from the Late Cretaceous Hell Creek Formation of Montana. In 2012, she completed her Ph.D. in Geological Sciences at the University of Colorado, Boulder, where she studied the paleobiology and paleoecology of hesperornithiform birds from the Western Interior Seaway of North America. Her research continues to focus on reconstructing the ecosystems of this Seaway. Research interests include studying the bone histology of marine vertebrates to uncover life history strategies of extinct animals, as well as comparisons between mid-latitude and high-latitude ecosystems along the Western Interior Seaway. Specific taxa of interest include seabirds, sea turtles, and mosasaurs. Much of her research involves comparisons to modern animals and ecosystems to better understand past systems and with the hopes of contributing to current marine conservation.
For questions, contact 248-645-3210 or email cisreservations@cranbrook.edu